Leelee Sobieski Is A Juggy Girl. She has a pretty face and an incredibly sexy body. She also has very large natural breasts. Her tits are easily on a par with Jennifer Love Hewitt's, and Leelee has actually gone nude (at various levels of nudity) quite a few times now. Here's some pics and vids of her completely naked to get your blood going...Now that's some good stuff.
This beautiful young actress is rather shy but she has one delicious body...
You can see right through her wet bikini bottoms.
here's a Leelee see-thru...
distant obscure nudity...
Leelee's big tits...
This lace top shows everything, nice pink and puffy nipples. Leelee's basically topless...
.
She's been topless a few times now and she is starting to bare her nipples. She's even shown her bare breasts on prime-time TV.
Leelee bares her pretty pink nipples on a broadcast showing of some Tarzan show...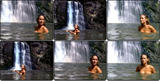 here's Leelee's bare crotch and breasts barely covered by her hands...
here's a peek at Leelee's pussy...
Hopefully she'll do full-frontal nudity soon...that would be a treat.
anyways, here's a stroke-worthy clip of Leelee being ordered to strip to skin. She tries in vain to cover her nakedness.
CLICK HERE FOR THE VIDEO